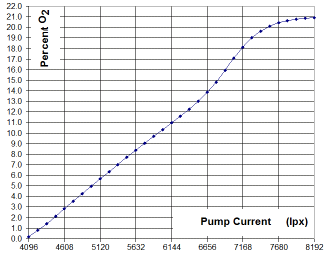 Percent O2 and Pump Current (Ip)
Percentage oxygen is a direct measure of how many oxygen molecules there are in the gas sample. As described here, a wideband sensor has a small gas measuring chamber (diffusion chamber) that is supplied with a small pump current to "neutralise" the excess oxygen molecules (when there is an excess of oxygen, it is transported, in the form of oxygen ions, out of the diffusion chamber to free-air). In this way, the pump current is a direct measure of percentage oxygen in the sampled gas.
On Tech Edge controllers, rather than Lambda, the primary measure from the sensor is Ipx (normalised pump current*) which represents the oxygen-ion current inside the sensor. Bosch documentation refers to Ip, and our Ipx is a normalised version of Ip where a value of 4096 represents zero pump current, and 8192 is the value achieved in free-air (which is assumed to be 20.9% oxygen). As complex chemical processes occur inside the sensor, a pump current of zero is close to, but not exactly, zero percent oxygen.
We have graphed the relationship between Ipx and % oxygen as shown at right using Ipx as the X-axis (linear scale), & percent oxygen as the Y-axis. Note that this is a relatively "linear" relationship. In an ideal sensor and controller the curve may be more linear but the relationship is more complex than a direct straight line.
*Note: Ipx has an operational range between 0 and 8191 although it can be larger than 8191 and remains valid. The process of free-air calibration discovers a constant (called the cal-value, γ) which. when applied to Ip (raw pump current), produces the normalise Ipx value.