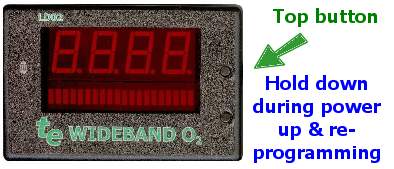 Reflashing LA1 or LD02 is essentially the same procedure as for WBo2 except for the important difference that displays must first be put into config mode where it can respond to commands from the flash utility. (normally, LA1/LD02 will just look for data from WBo2). As well, LA1/LD02 is reprogrammed using the reprogramming adapter (shown as a popup here) and described fully in the Config mode section of the LD02 User's Guide.
As shown in the image, to enter config mode press LD02's top button or LA1 left (A) button while power is being applied. The firmware will detect this and go to config mode rather than display mode. In config mode the 4 digit firmware version will be displayed.
In config mode the flash utility can start the download process for code memory (ie. flash program) which will complete in just a few seconds. LA1/LD02 will then be commanded to reset itself, during which time the top (or left) button must be held down for the EEPROM programming stage to now complete.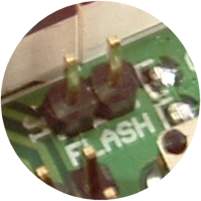 If this second stage is missed then the simplest thing to do is to abort the EEPROM programming step (press the Flash utility's Abort button then the Cancel button when the error message pops up) and again put LA1/LD02 in config mode, but this time select the EE Only? option. Note that at this stage, if an error message about version 0022 and using the rescue option pops up, then either LA1/LD02 is not in config mode, or the main flash did not work.
If necessary, LA1/LD02 Rescue Re-flash is achieved in the same way as for WBo2. The image at left shows rescue re-flash jumper J1 for LD02 located to the right of the LEDs and left of the top button, and clearly labelled FLASH. When instructed, turn LD02 off, put the flash jumper on, press the OK button and turn LD02 back on. As before, you also need to press the top button to ensure LD02 reboots in config mode to program EE memory.