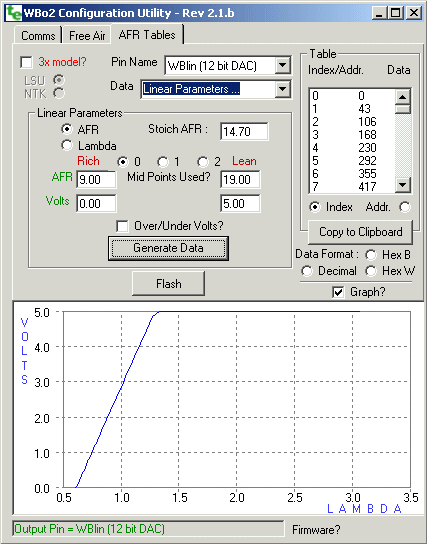 Output Pins and their Tables
Refer to the screen image at right. The drop down list box labeled Output Pin Name : and showing WBlin (12 bit DAC) selects the physical output pin that will be re-programmed. There are just three pins that can be re-programmed (ie. WBlin, SVout & NBsim) and you should refer to the relevant hardware description to determine the actual pin used. Remember : each pin has a re-programmable table associated with it.
Immediately below it, the drop down list box labeled Output Data : is highlighted and showing Linear parameters .... The values that may be set are shown below in the linear parameters frame (these are discussed fully below).
The available data sources for the table are itemised below :
Linear parameters ...
Use Data from File ...
SVout (1.0/1.5 compat)
NBsim (LSM-11)
0-20% Oxygen (0-5V) % = V*4
Note that designations SVout & NBsim used here refer to the default programming of the tables. It is quite possible to re-program the SVout pin to have a linear format, either the same as the default WBlin output, or another, say, a reversed linear table from 5 to 0 volts.
Generating Tables & Flashing Them
Depending on the table you select, if it's a fixed format it will be generated automatically, or you may be required to press the Generate Data button as shown for the linear parameters table at right.
The last step in the process is actually flashing the table by pressing the flash button. Strictly speaking, the EEPROM (Electrically Erasable PROM) is written rather than flashed. Unless you have selected an output pin, and data for the table, the flash button will give an error message when used.
Remember the Graph? check box is useful to see if the output data you have requested looks like what you have asked for. Only the Lambda range from .6 to 3.1 is actually shown on the graph but this range 99% of people will use. DOn't foget to press the Generate Data if you change some of the setup parameters.