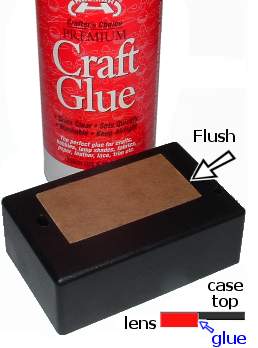 LD02 has a mechanically milled acrylic lens that is glued to the case with craft glue. Many glues (such as super glue & aircraft glues) will damage the acrylic lens. Note: the protective paper covers on the lens are left ON during gluing).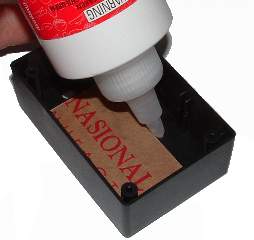 Begin by obtaining around 180 grit, or finer, sandpaper. Notice that both short edges of the lens have small projections that may need to be removed (they prevent the acrylic moving during milling). Sand just enough from the lens so it fits snugly without being forced (thus distorting the case). Note that the milled hole has a small radius at each corner so chamfer the lens edges with sandpaper to fit. Insert the lens in the case so the outer side of the lens is flush with the label face. This is shown in the image (lower section) at left. The inside edges of the lens should have a lip the glue is applied to.
When the fit is correct, insert the lens and apply glue to the edges of the lens from the inside ONLY. This operation is shown at right. Excess glue may spill on the paper, but it can be wiped off while the glue is still tacky. Do not remove the inside protective paper until the glue has dried.
After the glue has dried and the top and bottom protective paper covers are removed, the supplied LD02 sticky label can be placed over the lens. Before exposing the label's sticky backing, do a trial run to see exactly where the label is positioned, noting that the button holes will determine the precise location.
Discussion of how to use the re-programming interface is described in the