The bottom, or logging button, controls the on-board logging operation of WBo2 control units that support this feature. Giving this button a short press commands the WBo2 unit to start on-board logging. While the button is pressed, and for a short time afterwards, the text L on is displayed. While logging is enabled, the right-most decimal point of the 4 digit display flashes at about twice a second. Pressing the button again turns on-board logging off and also briefly displays LoFF.

Pressing the logging button for around 4 seconds will display Lclr and the on-board logging memory will be cleared (for WBo2 units that support on-board logging).
Config Mode & the Reprogramming Interface Adapter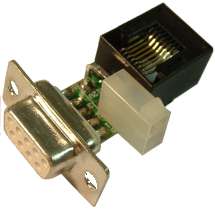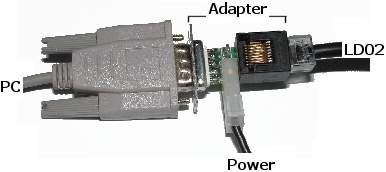 LD02 can be field upgraded with new firmware, and its display modes re-configured, using the LD02 interface adapter (*) shown at left. How the adapter is physically connected both to LD02, a PC, and source of power is shown at right. Power is obtained from WBo2's two pin power cable, or a 12 volt power supply is used. Click on either of the images for an enlarged popup, or for the programming adapter's schematic here. Note (*) see here for info on the old interface adapter.
The FLASH.exe program can be used to update LD02's firmware.
The CONF.exe program will soon provide support for LD02, and is used to change LD02's default behaviour and the display functions.
Config mode on LD02 is entered by holding the top button down ONLY while power is being applied to the display. Each time LD02 is power OFF, it will come back up in normal mode unless it sees the button depressed during its power up cycle.
Configuring LD02
This section will be updated when the PC based configuration options (in the CONF.exe program) for LD02 are completed.
Note: this document is subject to updates ....