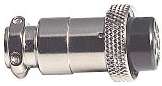 Circular 8 Pin Connector as Used on Cables

The big advantage of the 8 pin circular connector is that quite often the wideband cable can be routed from outside to inside the vehicle through an existing cable gland. If a new hole is required then the small diameter of the connector end (~ 17 mm) makes this a relatively painless procedure.

New (One Part) Cable : This diagram shows both the front of the circular 8-pin connector as seen by someone looking at the end of the completed cable, and also the wire or solder-side end of the connector that will be seen during construction or repair. Note that the shield (braid) is connected to the centre (pin 8), but at the sensor end of the cable, the braid is left unconnected - thus the braid acts as a Faraday Cage to shield the small signal wires from pickup from both external noise and switching noise from the H+/H- wires that are in close proximity. Note also that on the circular connector Pin 5 is spare (N/C).
Along with recent cable changes, we have also changed our connector supplier and there are now a couple of small variants in the circular 8-pin connector used in our cables. In general this will not be an issue unless you come to repair your cable.


Old (Original Two Part) Cable : This diagram shows the corresponding two part (older or original design) cable. All the signal wires are carried in a cable with four individually shielded small wires. The Heater current is carried in a separate heavy duty figure-8 cable that goes to pins 6 & 7 Note : the heater wire with tracer colour goes to pin 7.
The sensor end of the cable is attached to the mating or harness connector. These connectors are described above. The following section describes all cables we have manufactured, including old and new styles, for the 7057/7200, 6066 and 17025 sensors.