Pre-Built Modules Simplify Assembly
A feature of the 2Y controller is the use of a pre-built lambda module. The module is constructed with SMD (Surface Mount Devices) components and comes factory tested. It makes construction simpler and the chance of success much higher than the original DIY 2A0.

The SMD lambda module is readily replaced but our experience with SMD construction suggests that this will be the last item to cause problems. The lambda module includes a 2-position jumper to select either the Bosch LSU or NTK families of wideband sensors (the firmware must be changed if the sensor family is changed). Please note that there is presently no firmware available for NTK sensors, but such firmware could be made available, should there be sufficient market demand. Another 2-position jumper selects between LSU-4.2 (which includes the LSU-4.0 sensor) and the newer LSU 4.9 sensors. Again, the firmware must be changed.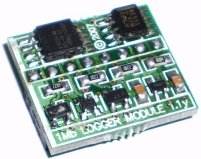 The jumpers are located on the underside of the lambda module. The lambda module is unplugged, by unscrewing two M3 screws, to change the position of these jumpers.
The image at right is the optional logger module which holds 1 megabyte of non-volatile flash memory — enough for around 30 minutes of logging at 10 samples/second rates. The logger module includes an onboard activity LED to aid in quickly identifying problems. Faulty modules can be swapped for a factory replacement without sending the entire 2Y unit in for repair. Click on the image to enlarge it.