(6) RPM Capture & Signal Processing
The M168 has a number of useful hardware modules. A 16 bit hardware counter is used to process time intervals with a 5 µSec. resolution. The CPU's PB0 (ICP1) pin has an input capture function and this pin is driven by the RPM signal from the circuit shown here. Two input levels are available; a higher voltage designed to connect to the COIL primary of a conventional points ignition system, and a lower level input designed to connect to the output of an ECU (RPM input).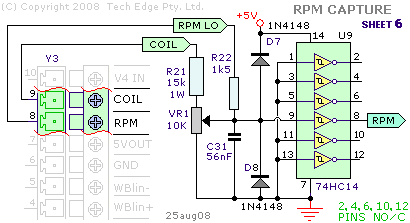 In the circuit C31, a 56 nF capacitor, is used as a high frequency bypass filter. The preset variable resistor VR1 works with the capacitor to form a kind of low pass RC filter. Protection diodes D7 & D8 are designed to prevent damage to the IC. U9 is a Schmitt trigger (six inputs) but only one input is actually used!
It should be carefully noted that case's end connector Y2-pin 4, which was also used for the original 2A0 and 2A1 controllers, may be printed with the words RPM. The only RPM inputs are actually on Y3 (side of the case)as noted in the diagram, so if your end-plate does have RPM printed there, please remove it (as the input is actually grounded!).
Monitoring High RPMs: C31 may be reduced in value to measure high RPMs. In operation, at high revs, C31 starts to act like a low value resistor, shunting the RPM signal to ground. If you find RPM signals start to go wrong at high revs, try changing C31 to say 560pF (100 times smaller!).
Accuracy &amp Conversion: The M168 converts the RPM data into a count of 5 µSec time periods that is averaged over two successive RPM pulses. To convert this count to something useful, first assume we are looking at pulses from a 4 cylinder 4-stroke motor that produces two pulses per revolution (ie. PPR = 2.0). At 2,400 RPM there will be 2400/60 = 40 revs/sec or 80 pulses/sec. As each second is made up of 1,000,000/5 = 200,000 count periods, there will be a count of 200,000/80 = 2,500. So, a count of 2,500 corresponds to an RPM of 2,400. The generic formula is:
⇒ RPM = 12,000,000/(count * PPR)
∴ count = 12,000,000/(RPM * PPR)
Higher revs produce smaller counts, and the lowest RPM that can be recorded (4 cyl., 4-stroke) for the 16 bit count field is 65,535 and this is 91.6 RPM - which is barely cranking speed for modern motors. At high RPM and high PPR rates the pulse frequency increases. The hardware low pass filter will start take effect at very high RPM and pulses will not be recorded accurately - in this case reducing C31's value may help (but possibly at the expense of more noise at lower RPMs).
Quantisation Error: At high RPMs the lumpiness of the 5 µSec time intervals becomes apparent. At 8,000 RPM for a 4 cyl. engine (PPR = 2) the count will be 12,000,000/16,000 = 750. The next count, 751, would be recorded as an RPM of 12,000,000/(751*2) ≈ 7,989 RPM. So at 8,000 RPM the resolution is 11 RPM - at lower revs the resolution improves, and at higher PPR values (ie. for 6 and 8 cylinder engines) the resolution degrades.