WBo2 2DP Prebuilt Pro. Wideband
From March 2011.



The 2DP is Tech Edge's professional quality pre-built wideband product for Bosch LSU (5 wire) sensors.

It is based on the SMD 2D1 OEM unit.

2DP is designed for applications that require a fully operational professional unit ready-to-go. It comes in a diecast and water resistant case and has options for a number of interfaces including 4-20mA and 0-5 Volt wideband Lambda and percentage oxygen.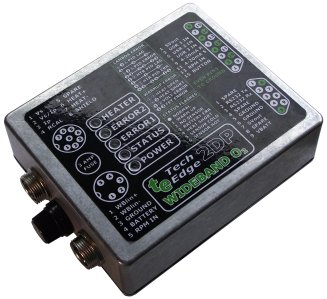 Tech Edge 2DP Features
Diecast case (120x100x36 mm) with water resistant connectors.
Configurable 4-20 mA loop output using WBlin output function.
Proven accuracy within 0.1 AFR (Lambda +/- 0.005).
10.5 to 19.5 Volt DC operation (max. <3 Amps, typically 1.0 Amps).
Configurable WBlin 5 Volt output (12 bit DAC).
Auto-Cal feature for stand alone operation (requires one button).
SVout extra analogue output (10 bit PWM, configurable).
Digital (RS232) output for digital display or PC based logging.
Can be configured for use with the LSU 4.2 or LSU 4.9
Has 3 analogue inputs and an RPM input (all unconditioned).
Auto-Cal function (user supplied button) enables stand-alone free-air calibration.
Other features include:
logging of AFR/Lambda (via RS232) with PC based software. Refer to the data frame format for more info. Note: 2DP does not include on-board logging memory.
Extended LED status information using two amber LEDS: ERR1 & ERR2. Refer to 2D0 Error LED Tech Note for more info.
Three analogue inputs (ADC1, ADC2 & ADC3 = 0-5 Volt, 10 bit) and one Pulse (RPM) input can be logged via RS232 and simple buffering is provided for these inputs.
An Auto-Cal input (PB1) is provide, as well as space for a PCB mounted button, to make the unit fully self-contained.
---
Buy the 2DP Configured as Follows ...
for
&
display.
selected
cable is
for this
sensor family
2DP Controller
LSU Sensor
Cable
Display

Total price of selected item(s) : quantity : ...
---
Connection Overview for 2DP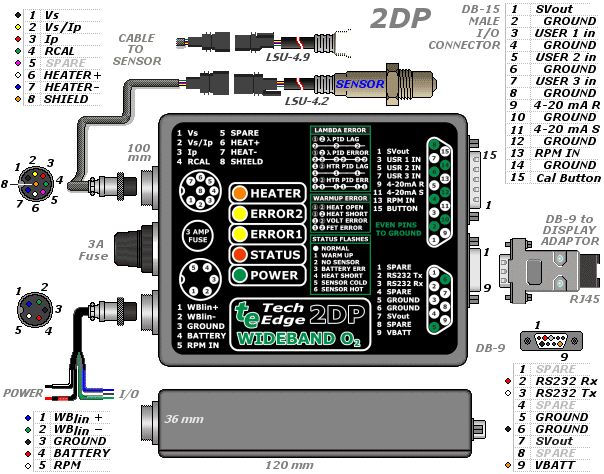 The image at right shows how 2DP is connected to other wideband components to make a usable system. Each component (clockwise from top left) is described below:
A standard 8-pin circular connector is used to connect to a standard Tech Edge controller-to-sensor cable which is available in various standard length.


Two Bosch sensor families are supported - the newer LSU-4.9 and the older LSU-4.2 sensor.


A DB-15 (male) connector (top right) provides optional I/O and includes the 4-20 mA current loop output and user inputs. It also carries a connection for the autocal button.


A DB-9 (female) provides an RS232 connection to a PC or other logging or display device. To use a standard Tech Edge display, a special DB9-to-RJ45 display-adaptor is required (this is shown far right).


A 5-pin circular connector carries the power/GROUND input and the wideband output (WBlin+/WBlin-) and also an (optional) RPM input.


Between the two circular connector is a 3-Amp fuse.
Dimensions: The diecast case itself is 120x100x36 but the connectors at each end add a further few tens of mm.
The following sections are being updated (25 Feb 2011)
We hope to have a complete description of the 2DP controller available by Mar 01 2011. Note that as of December 2010 Tech Edge has already sold a number of these controllers to various businesses that needed a solution matching 2DP's capabilities.
Further Technical Information
Please advise us (see link at foot of this page) if you need more technical information, or if any of this information appears unclear or inaccurate.