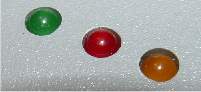 Operation of the LEDs (Power, Heater, Status)
The unit has three LEDs. Their Normal operational status is described below. From left to right the LEDs are :
GREEN = Power LED indicates power is connected. It should never be flashing.


RED = Status LED flashes while the sensor is warming up, to indicate error conditions, and to indicating on-board logging status.


AMBER = Heater Power LED shows the level of power being supplied to the sensor's heater. It should flicker reasonably brightly at 30 Hz.
Diagnostics from the RED & AMBER LEDs

Normal Operation : The unit should always have a steady RED LED (unless on-board logging is active - see below). The AMBER LED is brightly LIT but will flicker at 30 Hz (just perceptible). The intensity of the AMBER flicker will give some idea of how much power is being used to maintain the heater's temperature.

Normal - Heating : Just after the unit has been turned on the normal heating cycle will cause the RED LED to flash about once a second with a short sharp ON time, and longer OFF time. The AMBER LED will produce a small amount of flicker (30 Hz), but should be brightly LIT. This should last 20 to 30 seconds for a cold sensor. If the time is much over 30 seconds then either the battery voltage may be low or the sensor is placed where it is being excessively cooled by the gas flowing past it. A cool sensor position may result in reduced sensor life and inaccurate measurements.

Error - No Heating : If the sensor cable is disconnected or damaged, the battery voltage too low or too high, or some other problem with the heater circuit occurs, the RED LED will flash with a fast regular ON - OFF beat twice a second While these conditions remain the AMBER LED will be mostly DIM but will produce a very sharp flicker a few times a second (the unit is looking for sensor or sampling battery voltage). This condition can occur during starting or when there is excessive battery drain during idle. It may be an indication of a poor battery or alternator/regulator, or connection to the wrong point of the vehicle's wiring.
Unlocked PID : It's possible for transient conditions to cause the RED LED to flash off briefly. As long as the AMBER LED and green POWER LED remain on then this is an indication of a PID unlock condition.
A PID unlock is not necessarily an error, but it does indicate either very rapid changes in heating or cooling of the sensor, and/or rapid changes in the ambient air-fuel ratio. If this occurs without an explanation (such as rapid changes in throttle position) then it may be an indication of an intermittent somewhere in the wiring, or an aging sensor. Both the LD02 and the TEWBlog logger indicate these conditions.

The heater PID sharp single OFF flash is shown and prior to rev firmware Rev-48 this single OFF flash was also used to indicate a wideband PID unlock too. This condition indicates may indicate the sensor is positioned where it is either too hot or too cool.

A wideband PID is now indicated by a sharp double OFF flash as shown here. If you have earlier firmware and need to differentiate between the two conditions then download the latest HXF flash files and update (note, all 2A0 files start with version number 00).